During the corona virus pandemic, we've been committed to supplying your essential water and wastewater services while doing all we can to keep communities and colleagues safe.
We've had to make a few changes, and we're grateful for your support and patience when things have taken a little longer than usual.
How we're working
Our teams are still focusing on keeping your taps flowing and supporting customers who need extra help.
Our toll free 0800-720036 and Technical Hotline: 0110842285 are available between 8am and 5pm, Monday to Saturday.
Don't worry – you can access your account via the USSD Code *483*81# anytime .
You may see our teams out in your communities continuing with essential maintenance and repairs of pipes. As key workers, we've been active throughout the pandemic and are still following the latest Ministry of Health (MOH) guidelines to stay safe.
---
Covid-19 Response
NAWASSCO is Maintaining Safe and Reliable Water Service during the pandemic.
We are carefully monitoring the county and national advisories regarding COVID-19. While we work to ensure our customers maintain access to reliable and safe water supply, we are also taking precautionary steps to protect the health of our employees and customers. Read on to learn more about how NAWASSCO is addressing the COVID-19 situation.
---
How we are adapting to the Corona virus Outbreak
Our Staff are still out and about
You'll still see some of our teams out and about carrying out essential tasks to keep the water flowing and waste water taken away from homes, businesses and hospitals. We've also adapted the way we carry out many of our essential tasks to keep our customers and teams safe. We're rigorously adopting all the good hygiene guidelines and following social distancing rules and would ask you to do the same if you see us – we really are there for a good reason.
We'll only be out working on jobs including:
Clearing sewer blockages: we're clearing more sewer blockages than usual, often caused by kitchen roll and wipes. They don't break down like toilet paper does so please don't flush them. Bag and bin them instead.
Fixing and replacing burst or leaking pipes: if a pipe bursts or leaks it can interrupt the supply of water to several properties, so we're still finding and fixing these quickly and continuing to replace pipes that need replacing.
Work on our treatment works: our water and waste treatment teams are working round-the-clock to make sure everyone has treated water.
Resolving pressure issues: poor water pressure is frustrating, so we'll continue to support customers with these issues
---
Home visits
Occasionally we need to visit you at home to carry out work and read meters. We've changed some of our processes to protect you and our teams. We will only visit your home if it is essential. If we do need to visit you, we'll ask a few questions to check that everybody in the home is well before we come in.
Protecting your health and safety
What to do if you think your health and safety is at risk.
What do I do if I have no water?
Washing your hands is one of the most effective ways you can protect yourself and others against the Corona virus, so if you have a supply interruption during the outbreak it will be more concerning than usual.If your water has stopped or you have low pressure, it could be related to essential work going on in your area. We'll work to get your supply back to normal as soon as possible or provide alternative supplies of water where necessary.
If you are unable to use water to wash your hands, alcohol-based hand sanitizer is an effective alternative.
Your Water is Safe to Use
The World Health Organization states that COVID-19 can't survive in disinfected drinking water. There is no evidence that corona virus has been transmitted through drinking water or through sewerage.
NAWASSCO has high standards of water quality and safety in the Country. We clean, disinfect and test your water thoroughly, to make sure it's safe to use before it leaves our treatment plants and ends up at your taps.
How we are protecting our Teams
We provide one of life's essentials to the population of Nakuru Town. Homes, schools, hospitals and other critical facilities are relying on us to ensure taps flow and toilets flush. It's essential that our work continues, but we have made adjustments to protect the safety of our teams and our customers.
It's a challenging time for everyone, and our teams have been fantastic at adapting to new ways of working. We're ensuring that we provide them with all the support and Personal Protective Equipment they need, and that we're keeping everyone safe.
Some tasks require us to work close to each other for example carrying specialist equipment or working in trenches, so we've put extra precautions in place for these teams.
What we're doing
We continue to work hard to make sure our network of pipes is in the best condition to deal with demand, investing a lot of funds every day to protect pipes and predict and prevent problems before they happen.
As we're key workers, you may still see us out and about carrying out essential maintenance in our area, helping to make sure your pipes are in tip-top condition. We also request you to please maintain Social Distance and give our meter readers and other technical staff space to do their jobs and help keep you safe. They work so that you have safe and clean water to #WashYourHands and #StopCovid.
---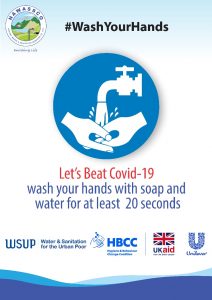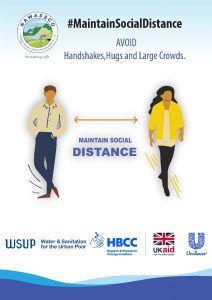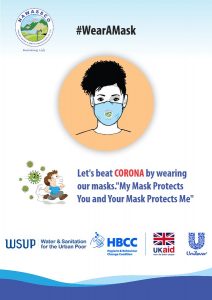 Water Saving Tips
Be a water saving hero
A human being needs 50 liters of water per day for households. This includes water for drinking, bathing, and other hygiene activities.
Why saving water matters
We already use millions of liters of water every day and as our population rises, we'll need more water to go around. We therefore need to can care for the water we already have by working together to save water where we can.
How can you help save water at home?
Showering and bathing are the largest in-house uses consuming about 27% of water domestically. From when you take you morning shower of bath, to when we brush our teeth at night, it's easy to assume that water will always be there when we need it. But as our world changes, the need to take care of our most precious resource is greater than ever. To keep everyone's taps flowing and toilets flushing, please follow our top water-saving tips.
Help keep taps flowing by saving water at home.
The water demand in Nakuru has surpassed the existing water supply capacity of the company which has necessitated rationed supply to some parts of the town. It is therefore important that everyone utilizes this important resource prudently to minimize wastage. Our customers are advised to conserve water through the following:
Take shorter showersOn average, a shower uses 10 litres of water a minute. That means a 10-minute shower can use 100 litres of water. If a family of four reduced their shower time by just one minute, they could save on water bills, and as much as 11,648 litres of water a year. Why not take the four-minute shower challenge?
 Turn off the tapA running tap can use six litres of water a minute, so this is a really simple way to save water at home. Try not to keep it flowing when you're doing the washing up, scrubbing your hands or brushing your teeth.
Fix leaky toilets and dripping tapsTake the time to tackle little leaks around the house. A single leaking toilet can waste an average of around 400 litres of water a day, which is the equivalent of five full bathtubs.
Don't use the toilet as an ashtray or wastebasketEvery time you flush a cigarette butt, facial tissue or other small bit of trash, 9 to 20 litres of water is wasted.
Use your water meter to check for hidden water leaksRead the house water meter before and after a two-hour period when no water is being used. If the meter does not read exactly the same, there is a leak.
Turn off the water after you wet your toothbrushThere is no need to keep the water running while brushing your teeth. Just wet your brush and fill a glass for mouth rinsing.
When washing dishes by hand, don't leave the water running for rinsingIf your have a double-basin; fill one with soapy water and one with rinse water. If you have a single-basin sink, gather washed dishes in a dish rack and rinse them with a spray device or a pan full of hot water. If using a dishwasher, there is usually no need to pre-rinse the dishes.
Washing of CarsUse water buckets while cleaning your car instead of using direct horse pipe from the tap. This will minimize the amount of water used in car cleaning
"Please continue to wash your hands regularly in line with the government's corona virus advice."